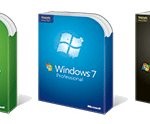 Als je, net als ik gedaan heb, al een tijdlang de Release Candidate van Windows 7 op je dagelijkse machine hebt draaien gehad, dan is de kans aanwezig dat je nog niet de moeite genomen hebt om die machine bij te werken naar de definitieve versie van Windows 7.
Want ik heb eigenlijk nooit problemen gehad met de release candidate, hoewel het toch eigenlijk software was die nog niet helemaal af was. Op mijn eeePC 901 draaide (ehm, draait) het zonder problemen en hoewel op de TabletPC er gemopperd werd over een aantal niet bijgewerkte drivers bleef dat beperkt tot dat vlaggetje in de taakbalk. Merken deed ik er niets van.
Maar de gratis RC was er natuurlijk niet voor altijd. Dit zijn de data waar je rekening mee moet houden:
At the time, it said Windows 7 RC would expire June 1, 2010. Before that date, however, users are to receive warnings of the impending end. Starting on Feb. 15, Windows 7 RC will display notices every few hours that the machine will periodically shut down beginning on March 1.

As of March 1, PCs running Windows 7 RC will automatically shut down every two hours. Those shutdowns will come without warning. (bron)
Tijd dus om over te stappen naar de nieuwe versie. Vervelend voor mij was dat ik de Nederlandstalige versies van Windows 7 gekocht heb via SURFspot. Want hoewel je Windows 7 wél zo kunt aanpassen dat het ook een upgrade vanaf de RC uitvoert, bleek dat niet te lukken naar de NL-versie toe omdat de RC oorspronkelijk niet in het Nederlands was.
Achteraf gezien niet eens zo heel erg om een verse installatie uit te voeren, de driver problemen zijn in ieder geval ook verdwenen. Ik blijf het een prima vervanger voor XP vinden. Net op tijd, want Vista had op deze tabletPC (was het standaard geïnstalleerd OS toen hij geleverd werd) simpelweg teveel problemen. En dat Microsoft een nieuw OS uitbrengt dat het beter doet op 2 jaar oude hardware dan de vorige versie is geen vanzelfsprekendheid.
Upgraden dus.