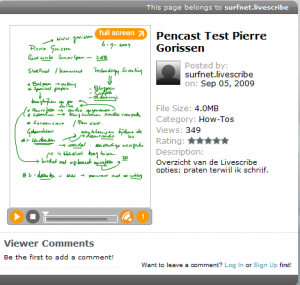 Ik heb de Livescribe pen sinds afgelopen vrijdag in huis en dit is daarom een soort tussentijdse test/review/bespreking. Ik heb vanochtend twee vellen van het schrijfblok volgeschreven terwijl ik al pratend toelichting geef bij de Livescribe.
Die "opname" kan ik niet alleen op de pen zelf terugluisteren of op mijn PC bekijken en beluisteren, maar je kunt hem ook uploaden naar de Livescribe website.
En dan kun je hem ook in webpagina's embedden zoals ik hierboven gedaan heb.
Je kunt het venster schermvullend maken zodat je iets beter kunt lezen wat ik schrijf.
Je kunt de opname ook hier online vinden en daar kun je dan een score geven of een reactie achterlaten. Online opnames hoeven niet persé voor iedereen zichtbaar te zijn, je kunt ze ook privé maken.
Ik denk dat als het om docenten gaat, deze manier van werken (uitleg geven terwijl je praat en schrijft op 'gewoon' papier) wel eens laagdrempelig genoeg zou kunnen zijn om ook mensen waarvoor het maken van een 'screencast' een brug te ver is, over de streep te trekken. Op deze pagina kun je een hele lijst voorbeelden vinden van aanvullende uitleg bij huiswerk.
De docent die dat doet hoeft geen computer aangeraakt te hebben (mits iemand anders de opnames achteraf even voor hem online zet).
Ik had vanochtend geen videocamera aan staan, dus je kunt niet zien hoe ik schrijf (alleen het resultaat). Hier is een screencast van Tim Fahlberg waarbij je dat wel stap voor stap kunt zien.
[Disclosure] De Livescribe Pencast is beschikbaar gesteld vanuit het SURFnet/Kennisnet Innovatieprogramma. De review weerspiegeld echter mijn persoonlijke mening