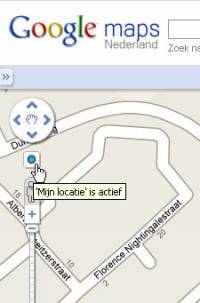 Google heeft het weer wat gemakkelijker gemaakt om ook op je laptop te achterhalen waar je bent. Als je Google Chrome, Firefox 3.5 of een browser met Google Gears gebruikt dan zie je bij Google Maps nu een extra knopje waarmee je op zoek kunt gaan naar je locatie.
Het werkt bij mij in zowel Firefox 3.5 (zonder Google Gears) als in Internet Explorer 7 (met Google Gears). Vreemd genoeg werkt mijn eigen script wél met IE7 en Google Gears samen, maar gebeurt er in FF3.5 helemaal niets. De methode van opvragen van de data is dus blijkbaar anders (handig!).
Apart is ook dat Google Maps in FF3.5 mijn locatie probleemloos weet te vinden, maar als ik de locatie in FF3.5 laat zoeken via de Geo-demo pagina van Mozilla, of dit andere geo-voorbeeld, dan wordt ik in Nijmegen geplaatst (de locatie van mijn provider).
Ik denk dat ik het voorlopig maar gewoon bij de locatiebepaling op mijn iPhone hou, die doet het binnen en buiten wél meteen en nauwkeuriger.
Maar als je FF3.5 gebruiker bent dan lijkt het me hoe dan ook wel leuk om even te testen hoe nauwkeurig jouw Wifi-verbinding op de kaart staat. Kost nu maar één klik in Google Maps.