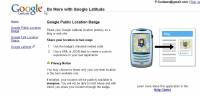 "Google has released two nifty applications for Google Latitude, a feature launched through Google Mobile Maps that allows you to broadcast your location to select friends, family, and colleagues based on the coordinates of your cell phone (via GPS or otherwise). Google says that since Latitude's launch, users expressed interest in sharing their location with people who are not their Latitude friends. The two apps rolled out today allow users to do this."

(bron)
Tja, dit gaat vast weer heel wat stof doen opwaaien met koppen als "iedereen kan nu zomaar zien waar je bent". Zeker na de eerder verhalen over het opsporen van een gestolen telefoon dankzij Google Latitude.
OK, eerst maar even uitleggen wat 'dit' is. Google heeft het nu mogelijk gemaakt om de locatie-informatie van Google Latitude ook zichtbaar te maken voor mensen die niet op je vriendenlijst staan. Dat betekent dat als je de feature aan zet (en ja, je moet het echt zelf aanzetten!) dat iedereen die je Google-id kent kan zien 'waar je bent'.
Google maakt het mogelijk dat automatisch bij te werken in je Google Talk of Gmail chat status (gebruik ik beiden niet) of middels een 'badge' op je weblog of website.
Goed, voor de duidelijkheid: ja, moet moet er echt wel even over nadenken voordat je deze feature actief maakt. Google waarschuwt je ook in de code die je gebruikt voor de badge, daarin staat: To disable location sharing, you *must* visit http://www.google.com/latitude/apps/badge and disable the Google Public Location badge. Removing this code snippet is not enough!
Even goed over nadenken dus. Voor het overige zie ik het probleem, maar vooral ook het nut van Google Latitude na een tijdje gebruik nog niet zo erg.
Wellicht komt het ook wel door mijn telefoon (een HP iPaq 914c). Google Latitude is daar meestal niet in staat om zonder dat ik de GPS-functie aanzet mijn locatie te bepalen. En de paar 'vrienden' die ik in Google Latitude heb (mijn oproep leverde indertijd niet echt veel reacties op) hebben zo te zien Google Latitude ook niet vaak aan staan. Het meest recente profiel is van Willem Karssenberg en ik kan nu zien waar hij 11 dagen geleden was. Big deal.
Daarnaast is een locatie eenvoudig handmatig in te stellen via iGoogle. Mijn status zou nu moeten aangeven dat ik op de Dam ben in Amsterdam. Maar daar ben ik toch echt niet. Dat is slechts de locatie die ik in de iGoogle gadget heb ingesteld.
Ik geloof best in location based services. En er zijn heel veel momenten dat het me helemaal niet uitmaakt dat anderen weten waar ik ben. Zelfs nu ik Little Brother aan het verslinden ben (schitterend boek!). Maar Google zal nog een paar slagen moeten maken met Google Latitude voordat het af is.