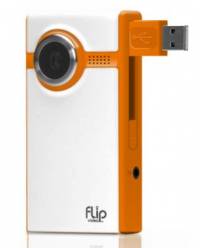 "Altijd al overwogen om (weer eens, of voor het eerst) een bijdrage te leveren aan SURFspace maar nog steeds niet gedaan? Dan is nu het moment. Doe mee en win! Zet tussen 10 november en 1 december 2009 een publicatie, verslag of praktijkvoorbeeld op SURFspace en maak kans op een

Flip

digitale camcorder."

(bron)
Dus als je na al die berichten de afgelopen dagen vreselijk bent gaan watertanden bij het zien van zo'n compacte camera of als je gewoon vreselijk nieuwsgierig geworden bent naar hoe het zou zijn om hiermee in je broekzak rond te lopen, dan is dit je kans.
Schrijf een bijdrage voor SURFspace.nl en maak kans op je eigen FLIP.