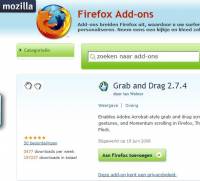 Vandaag kwam ik een add-on voor Firefox tegen die het browsen op een TabletPC een stuk gemakkelijker maakt. Het is de Grab and Drag add-on. Na installatie kun je eenvoudig scrollen door de pagina 'een zetje' te geven. Het effect is vergelijkbaar met het scrollen op een iPod touch of iPhone. Met als belangrijkste verschil dat ik op de HP Compaq 2710p gebruik moet maken van een stylus en het scrollen niet met mijn vinger kan uitvoeren.
Een plek waar het scrollen heel handig werkt is Google Reader. Normaal heb ik hem in "Lijstweergave" staan, maar met de penbewegingen is het eenvoudig om snel door de "Uitgebreide weergave" te bladeren.
Er is ook een variant op deze add-on beschikbaar voor Internet Explorer. Als je het (eveneens gratis) Mouse Gestures installeert dan heb je een bijna vergelijkbare functionaliteit in Internet Explorer.
Bijna, want juist in Google Reader werkte het scrollen door de berichten niet goed. Gelukkig gebruik ik Internet Explorer niet echt vaak.
Heerlijk. De tabletPC is weer wat eenvoudiger te gebruiken geworden. Ik sla het bericht op in de eeePC categorie omdat het voor mijn hét laatste duwtje was dat ik nodig had om te besluiten een touchscreen set voor mijn EEEPC 901 te bestellen. Dat is overigens een versie die wél met je vinger te bedienen is. En nu maar hopen dat ik hem heelhuids geïnstalleerd krijg!