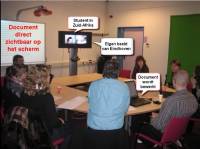 Op 15 januari 2008 vond in het ICT en Onderwijs Lab voor het eerst een projectoverleg plaats van het project StuVer. StuVer is een project van Fontys Hogeschool Verpleegkunde project dat tot doel heeft studenten de mogelijkheid te bieden naar eigen inzicht hun studie versneld te doorlopen of hierin verdieping aan te brengen. Dit gebeurt door middel van action research.
Het was niet helemaal een regulier projectoverleg omdat een van de deelnemende studenten tijdens het overleg 9600km verderop zat in Zuid Afrika.
Via het videoconferencing systeem van het Lab, dat gekoppeld was aan het Click To Meet systeem dat Fontysbreed beschikbaar is, vond het overleg plaats. Die koppeling met Click To Meet was nodig omdat de student geen beschikking had over een standalone systeem. Zij maakte gebruik van een laptop en een webcam. De deelnemers aan de Eindhovense kant zaten 'gewoon' aan een vergadertafel en zagen op het TV-scherm de videobeelden terwijl ze op het scherm ernaast het document zagen dat door de projectleidster bewerkt werd tijdens het overleg. Ook de student in Zuid Afrika kon meekijken met die bewerkingen.
Patrick de Vos van Fontys Hogeschool Verpleegkunde heeft een stukje van het overleg opgenomen en met behulp van Camtasia Studio er uitleg aan toegevoegd.
De video is als streaming WMV beschikbaar, ik heb hem ook even in een pagina geplaatst.
Het overleg was niet eenmalig maar wordt nu maandelijks herhaald.