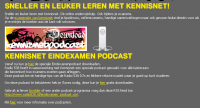 Via het ICT-in-Onderwijs Nieuws werd ik gewezen op de podcast die Radio 538 en de Examen website van Kennisnet Ict op school gemaakt hebben. Je moet even weten waar je moet zoeken in de pagina van 538 om te ontdekken hóe je de podcast kunt beluisteren. Waarom niet gewoon ook een eenvoudige flash-player in de pagina?

Eindexamen Podcast #1 (24 minuten en 33 seconden) Of weten al die examenkandidaten wat ze moeten verwachten als ze op "Vanaf nu kun je hier de speciale Eindexamenpodcast downloaden." klikken? Als Windows-gebruiker kom je namelijk eerst nog bij een tussenpagina waar Apple je verteld dat je geen iTunes hebt. Die heb ik wel, maar die staat niet aan, dan moet je daar dus de juiste knop klikken, dan je subscriben en dan komt de podcast binnen.
Ruim 24 minuten voornamelijk muziek, smaken zullen verschillen maar ik kan me voorstellen dat je dit lekkere achtergrond muziek vindt. Het is maar goed dat de muziek niet slecht is, want de commentaren en tips tussendoor zijn nogal dom (of is dat omdat ik oud ben). OK, dus ik moet er voor zorgen dat ik in ieder geval weet voor welk vak ik kom. Handig om te weten. Geen koud water drinken vooraf maar een glaasje thee, ook handige tip. Goed om te weten: statistisch gezien is antwoord A het vaakst het juiste antwoord.
Hij staat nog in mijn iTunes podcastlijst, maar ik kon nergens ontdekken of er een deel 2 en verder van deze podcast komt.