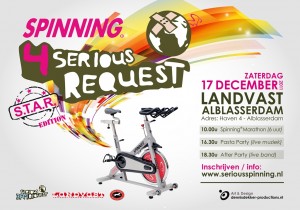 Het is zover, het is zaterdag 17 december 2011. Vandaag vindt in Alblasserdam Spinning for Serious Request 2011 plaats. Zes uur lang, van 10:00 – 16:00 zal daar een spinning marathon plaats vinden. De deelnemers hebben allemaal een bijdrage betaald om op een fiets te mogen zitten en er zijn (extra) sponsoren. Allemaal met als doel om geld in te zamelen voor de Serious Request actie van 3FM.
En ik doe daar aan mee! Samen met Wilfred Rubens heb ik voor een fiets betaald. Dus dit jaar geen snor die er vanaf gaat (die is er namelijk nog steeds vanaf!), maar een paar uur spinnen. 🙂

Het programma van vandaag ziet er als volgt uit:
10.00 – 10.50 uur – Peter Struik (NL)
A sort of homecoming – Endurance / Strength Ride – Wilfred
11.00 – 11.50 uur – Karsten Krause (D)
Passion to ride – Interval Ride – Pierre
12.00 – 12.50 uur – Andre Struik (NL)
Fade into darkness – Strength Ride – Wilfred
13.00 – 13.50 uur – Thomas Alsing (DK)
Do you remember – Aerobic Interval Ride – Pierre
14.00 – 14.50 uur – Jarek Witek (PL)
Nothing else matters – Strength Ride – Wilfred
15.00 – 15.50 uur – Peter Struik / Andre Struik (NL)
That's when we all win – Interval Ride – Pierre
Zoals je ziet, zullen we dus helaas niet samen aan het spinnen zijn, je hebt namelijk samen een fiets ter beschikking en moet dan dus om en om aan de slag. Dat was hier in Deurne eerder dit jaar bij de Spinning marathon leuker geregeld, daar gingen ze gewoon uit van teams van 2 die inschreven en werden die dan ook steeds naast elkaar op een fiets ingepland. Dan was je dus samen een half uur op de fiets en een half uur er naast.
Hoe dan ook, ik verwacht dat het weer een gezellig inspannend dagje gaat worden en er zal genoeg te doen en over te praten zijn me al die andere deelnemers.
Of ik al gedurende de dag veel updates kan sturen zal een beetje afhankelijk zijn van de internetvoorzieningen in de ruimte waar we aan het spinnen zijn. Met een beetje stabiele 3G verbinding moet het lukken om foto's en wellicht af en toe een video online te zetten. Anders zal het bij tweets met tekst blijven. Je kunt het beste Twitter in de gaten houden voor updates. Dat is dan via mijn account, dat van Wilfred en ik neem aan dat het Serious Spinning account vandaag ook wel extra actief is met updates!
En je kunt ons natuurlijk ook online aanmoedigen! Dat kan met tweets, maar ook met extra geld. Wil je Wilfred of mij vandaag extra hard laten fietsen, reageer dan hieronder, via mail (Pierre@gosoftonline.com), of via twitter (MD @PeterMcAllister) met het bedrag dat je via deze weg wilt bijdragen aan Serious Request! Ik zorg er dan (na vandaag) voor dat het geld daar terecht komt.
Ben je in de buurt van Alblasserdam? Kom dan langs om ons persoonlijk aan te moedigen! We zitten in het Cultureel Centrum Landvast op Haven 4, Alblasserdam!