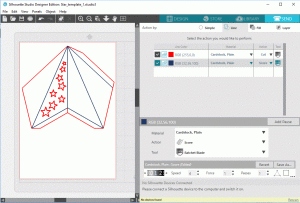 Vorig jaar knutselde Marit een kerstster in elkaar waarvan ze eerste de individuele onderdelen met liniaal en potlood getekend had, uitgeknipt en gesneden en daarna gelijmd. Hoe dat moet kun je ook in dit filmpje zien (alleen gebruikt zij veel dikker papier dan Marit had waardoor het een stuk gemakkelijker is). Ik zorgde daarna voor de verlichting ín de ster.
Dit jaar wilde Marit opnieuw zo'n ster maken, maar dan met behulp van de snijplotter. Omdat ze het vorig jaar allemaal met de hand getekend had op basis van een beschrijving over de verhoudingen tussen de hoeken, hadden we geen bronbestanden of ontwerptekeningen meer bij de hand. Maar omdat het principe generiek is, wist ik dat er vast wel andere mensen waren die zo'n ontwerp gedeeld hadden. Ik vond er uiteindelijk eentje bij The Spruce Crafts. Maar dat was een afbeelding, in zwart/wit.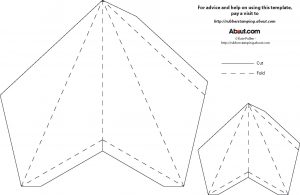 In zo'n geval kun je een aantal dingen proberen als het gaat om het omzetten van zo'n afbeelding naar iets waarmee een snijplotter aan de slag kan. Je moet rechte lijnen hebben, anders gaat het snijden en vouwen niet goed. En je moet de lijnen in verschillende kleuren kunnen weergeven om het verschil tussen snijlijnen en vouwlijnen helder te maken.
Ik besloot uiteindelijk om de tekening gewoon na te tekenen. En tja, voor mij is dan PowerPoint een logische tool om te gebruiken. Daarin kan ik namelijk gemakkelijk de afbeelding inladen en dan eroverheen rechte lijnstukken in verschillende kleuren tekenen. Bijkomend voordeel was dat de versie van Marit uitgesneden sterretjes op de ster had. Die wilde ik er nog aan toevoegen. In PowerPoint is dat een kwestie van het gebruiken van een van de clipart sterretjes, die kopiëren, in afmeting variëren, wat draaien en klaar is je patroon.