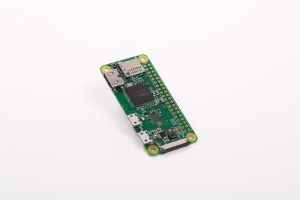 Ik moet bekennen dat ik wel een beetje baalde vanochtend toen ik las over de nieuwe Raspberry Pi Zero W. Ik heb zelf namelijk een paar Zero-exemplaren in huis, heel moeilijk om aan te komen overigens en heb daar Bluetooth en WiFi aan toegevoegd via een los kaartje. En nu komt de nieuwe versie van de Pi Zero uit die beide al óp het bordje zelf heeft zitten. Daar wordt hij dan wel 2x zo duur van als de oude versie maar voor 9,60 GBP (excl. 4 GBP verzendkosten naar Nederland) is dat natuurlijk nog steeds een koopje. Voor € 16,60 heb je er eentje in huis.
De productie van een nieuwe telg aan de Raspberry Pi familie is meestal nogal een probleem, maar deze keer hebben ze blijkbaar voorzien in een hogere productie. Toch is ook nu weer het aantal dat je per direct kunt bestellen nog beperkt tot 1 per klant.
Je kunt hier een overzicht van leveranciers vinden die hem verkopen.
Wat kun je er allemaal mee doen? Je zou er bv een Raspberry Pi NoIR Camera Module V2 bij kunnen kopen, een verloopkabel zodat je hem op de Pi Zero aan kunt sluiten en een ZeroView houder. Dan kun je Pi Zero tegen het raam aan plakken, een USB-kabel voor de 5 Volt voeding aansluiten en dan automatisch foto's maken van dieren die in je tuin voorbij komen. Eigenlijk moet je dan nog een infrarood led of twee aansluiten op de Raspberry Pi + een LDR die er voor zorgt dat ze alleen aanschakelen als het donker is (en de Pi Zero alleen foto's laat maken als het donker is) en dat is dan natuurlijk meteen weer een mooi extra project waarbij je dan ook de GPIO pinnen van de Pi Zero kunt leren gebruiken. Dat kon natuurlijk met de oude Pi Zero ook al, maar nu hoef je geen dongle voor Wifi meer aan te sluiten.
Wil je specifiek de Bluetooth op de Pi Zero W gebruiken, dan kun je er een Eddystone URL beacon van maken of een iBeacon transmitter. Je kunt er ook een beacon tracker mee maken die je een seintje geeft als een beacon in de buurt is. In  alle gevallen heb je niet meer nodig dan een micro-SD kaartje voor het OS en een 5V voeding.