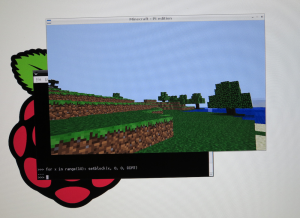 Ik wist eerlijk gezegd niet of ik blij moest zijn of dat ik mijn Raspberry Pi's achter slot en grendel moest gaan opbergen. Minecraft krijgt namelijk ook een port voor de Raspberry Pi. En als er één spel is dat op dit moment hier in huis veel gespeeld wordt, dan is het wel Minecraft.
Samen met een paar vrienden van school bouwen ze online hele constructies, werken ze samen aan het verbouwen van verschillende zaken in een wereld waarvan ik als Second Life bewoner me nooit heb kunnen voorstellen dat die interessant genoeg was om lang leuk te zijn.
Wat verder lezend in de reacties op de aankondiging stelde me al iets meer gerust. Dit is waarschijnlijk een versie die geen gebruik kan maken van een Minecraft server, en dat haalt (helaas?) denk ik toch wel veel van de charmes uit het spel. Tenminste als ik kijk naar het huidig gebruik hier in huis.
Ondanks het feit dat je zo te zien deze Minecraft versie met een programmeertaal (er komen er blijkbaar een aantal verschillende beschikbaar) kunt aanpassen. De screenshot (meer dan dat is er ook nog niet beschikbaar) doet vermoeden dat je bijvoorbeeld met een 'for-loop' blokken grond kunt plaatsen. Dat zal een stuk sneller gaan dan het steeds moeten klikken met je muis.
Het is dus nog even afwachten of mijn tweede Raspberry Pi geconfisqueerd gaat worden. Als hij daarmee aan het programmeren slaat, dan zal ik de laatste zijn die daar rouwig om is. Het is een stuk goedkoper dan een laptop (zelfs als ik er een extra monitor met HDMI-aansluiting voor aanschaf) en in dat geval zeker zo leerzaam. We zullen zien.
(getipt door Raspberry Pi)