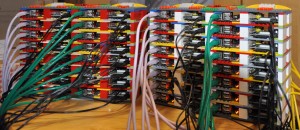 OK, ik snap dat in veel gevallen de vraag "waarom heb je dit gedaan?" al afdoende is beantwoord met "omdat ik wilde weten of het kon". Maar soms wil je toch wel graag wat meer weten.
Op zich is het al heel opmerkelijk dat Professor Simon Cox van de universiteit van Southampton in het Verenigd Koninkrijk er in geslaagd is om aan 64 Raspberry Pi's te komen. Tot een tijdje geleden kon je er namelijk officieel maar 1 per bestelling krijgen en de levertijden nu waren ook nog best lang. Maar goed, hij had toevallig 64 stuks in huis, een grote doos lego, 64 SD kaartjes van 16GB en voldoende stopcontacten. Het resultaat was een "supercomputer" van iets meer dan 3.000 euro (excl. de netwerkswitches die nodig waren om het zaakje aan elkaar te koppelen). In plaats van zijn eigen energiecentrale functioneert deze combinatie van 64 computers gewoon van een normale stroomgroep (13 Amp).
Er wordt verteld dat ze Pi hebben laten berekenen door de computer, maar nergens in het persbericht of op de website wordt er bij verteld of dat nou sneller ging dan wanneer ik dat op een gewone PC van €1.000,- zou doen. Ging het meer dan 3x zo snel? Of ging het sneller dan wanneer ik 3 PC's van elk €1.000,- met Intel i7 processor van de juiste Linux software zou voorzien en aan elkaar zou koppelen?
Natuurlijk, vanuit onderwijskundig oogpunt kun je stellen dat je studenten nu kunt laten oefenen met het programmeren voor een supercomputer en ze kunt laten zien hoe processen over de 64 Raspberry Pi's verdeeld worden etc.
Maar het principe uitleggen kan ook met 3 systemen lijkt mij. Ik hoop dus dat er nog wat meer info beschikbaar komt over de kracht van deze supercomputer.
(getipt door Liliputing, persbericht staat hier, website met foto's en instructies staat hier)