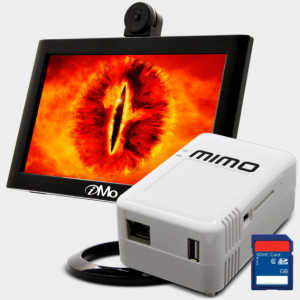 Vorig jaar heb ik de kans gehad om met de Sheevaplug te spelen. Toen moest ik het zonder monitor doen, al kon ik via een verbinding vanaf een andere computer wel een grafische interface opstarten. Nu komt Mimo Monitors met een combinatie aanbieding van een 10-inch Touchscreen, een webcam boven op dat scherm en een plugcomputer met Debian Squeeze en de Gnome Desktop. Met een 16GB SD-kaart kost dat geheel je dan $469,99. Dat is in dollars bijna gelijk aan wat een iPad 2 met 16GB in euro's moet kosten.
De vraag is dan ook meteen: zou je nou zo'n MimoPlug willen hebben of een iPad 2? Als je er mee rond wilt lopen, natuurlijk, dan is de keuze snel gemaakt. Maar goed, wat als je het toch al in de keuken wilde inbouwen? Dan lijkt me de keuze iets minder recht voor zijn raap.
De MimoPlug is wat goedkoper, draait op Linux, waarschijnlijk wat flexibeler voor de gemiddelde hacker. Maar de iPad 2 is als apparaat een stuk strakker en compacter. Geen lelijke webcam er bovenop, geen apart kastje voor de logica, zelfs het update van de iPad kan straks zonder hem aan een computer aan te sluiten. De MimoPlug heeft weer de mogelijkheid om een bekabelde netwerkverbinding te gebruiken. Ook wel handig, zeker als je wilt videoconferencen vanuit je keuken. De opslagcapaciteit is nog uit te breiden via de USB-poort, of bij dit model zelfs via een eSATA poort.
Kortom, wellicht is er toch wel een markt voor MimoPlug. Welke van de twee ik zou kopen weet ik zo nog niet. Ik denk dat ik voor in de keuken zou gaan voor eenvoudig te beheren en dus voor de iPad 2. Iemand die de Mimoplug zou gaan?
Getipt door Liliputing.
(p.s. binnenkort nóg een optie voor wat betreft die keuken, maar onze keuken ligt even in de verbouwing!)