The Joint Meeting of Research Schools (Helsinki 2010)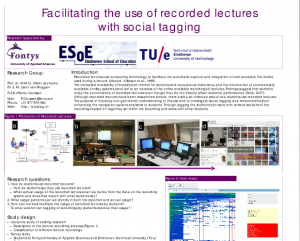 Het is weer tijd om mijn koffer te pakken en richting Schiphol te gaan. De rest van de week ben ik in Helsinki bij The Joint Meeting of Research Schools.
Ik mag daar een posterpresentatie houden over mijn promotieonderzoek en daarnaast natuurlijk luisteren naar en discussiëren over de presentaties van een aantal andere promovendi uit Findland, Zweden, Estland, Duitsland en Nederland. Er is wifi in het hotel, dus niet offline, maar even geen idee wat dit voor het aantal posts de komende week gaat betekenen. Je kunt de poster in zijn geheel bekijken door op de afbeelding te klikken. In het "echt" is het A0 formaat.