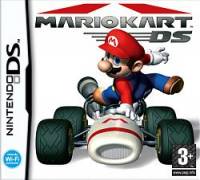 Ik weet het, er zijn een heleboel mensen die dit spel al 3 jaar spelen en het al 3 jaar weten, dus lach maar gerust, maar ik kwam er gisteren pas achter hoe geniaal de online opties van de Nintendo DS Lite wel niet in elkaar zitten.
Neem zo'n spel als Mario Kart DS. Dat kun je alleen spelen, racen tegen de computer. Maar je kunt het ook online spelen. Je maakt dan verbinding via het draadloos netwerk en de online computer zoekt dan tegenspelers voor je. Is leuk, maar er zitten ook een paar nadelen aan: de Nintendo ondersteunt alleen WEP-beveiliging geen WPA, en dat is voor je thuisnetwerk niet zo fijn. Daar komt bij dat je op veel andere plekken niet altijd even gemakkelijk online zult kunnen komen.
Waar wat blijkt, als je met twee of meer Nintendo DS Lite consoles bij elkaar in de buurt bent (maximaal 10 meter), dan kunnen die elkaar ook 'zien'. Ze kunnen dan onderling een verbinding opzetten. En dan kun je tegen elkaar spelen via de multiplayer optie die een aantal spellen hebben.
En dat is veel leuker, want dan heb je meteen de optie van voicechat erbij, iets wat je online ander mist. Voor de duidelijkheid: je kunt tijdens een race dus gewoon tegen elkaar praten, sorry roepen als je iemand van de baan af geschoten hebt etc.
Het meest compleet is de multiplayer optie als je allemaal zelf het spel op je DS Lite hebt. Maar als je iemand met een DS Lite tegen komt die dat spel niet heeft of niet bij zich heeft, dan nog kun je samen spelen.
Geniaal vind ik namelijk dat ze een "DS Download Play" optie hebben. Daarbij haalt de DS Lite die het programma niet heeft een 'kopie' van het spel over via de onderlinge draadloze verbinding. En dan kun je alsnog onderling spelen.
Het is er (uiteraard) een met wat beperktere spelopties, zo kun je als downloader bij Mariokart niet zelf je figuur kiezen en het aantal tracks waarop je kunt racen is begrenst. Maar voor de rest is het compleet en ik kan je nu uit ervaring vertellen dat het ruim voldoende is om je effe bezig te houden.
Het is als verkoopstrategie natuurlijk ook heel slim. Het is een combinatie van "Try before you buy" en het in een verkoper veranderen van je klanten.
Ik moet toch eens gaan navragen hoeveel collega's een DS Lite hebben, lijkt me prima tijdverdrijf in de pauze zolang we Mario Kart voor de Wii nog niet binnen hebben!